Salon Mats
Salon Mats are cushioned anti-fatigue floor mats designed for use in salons and barber shops to accommodate circular and square shaped salon chairs. Salon mats are puncture and stain resistant and have a non-stick surface so hairs can easily be swept off. All salon floor mats have beveled edges so anyone can safely walk on and off the mats without fear of tripping. These salon comfort mats provide day-long relief to the back, legs, knees and feet while helping to stimulate blood flow to increase energy. All salon mats are available in the standard 1/2" thickness as well as the double-duty 7/8" thickness for enhanced cushion. You'll be sure to find a salon mat to fit any decor.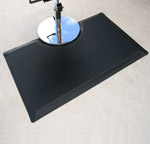 Classic Salon Mats are the most popular salon mats in the industry! These salon floor mats have a traditional looking, easy clean vinyl surface and a comfortable foam base that reduces fatigue and provides support to the back, neck and legs.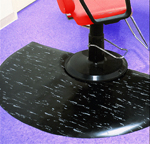 Marbleized Salon Mats display the timeless, tile top floor mat look, which coordinates with almost any environment and helps to hide, dirt, dyes and footprints. Marbleized mats offer exceptional comfort and style with 8 surface colors and a long-lasting, comfortable foam base to provide anti-fatigue relief and reduce stress.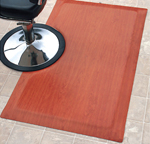 Beautify your salon while adding anti-fatigue relief with Wood Design Salon Mats. These comfortable salon mats come in two warm tones and are perfect in front of salon chairs and shampoo stations. This salon floor mat's durable vinyl surface is stain, puncture and chemical resistant and has a comfortable foam base.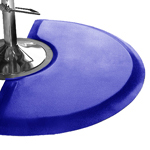 Textured Design Salon Mats have a crocodille-like surface texture boast with a glossy, sleek finish in 7 designer colors. These beauty/barber mats reduce your fatigue when standing on hard floors throughout the day. Textured salon mats boast a thick, vinyl surface, making these floor mats te highly resistant to both punctures and high heels.