Kitchen Mats
Kitchen mats are a must have for both residential and commercial kitchens alike. Kitchen floor mats provide comfort, traction and floor protection against stains, scratches and spills. Commercial kitchen mats are rubber mats that are available as stand alone kitchen mats, runner floor mats and interlocking rubber tiles and have drainage holes to allow food and liquids to flow through while maintaining traction on top surface. Residential kitchen mats are aesthetically pleasing cushion mats that add beauty and relieve stress to the back and feet while cooking. Kitchen floor mats provide safety and comfort to any kitchen space. Many kitchen mats can be customized to fit virtually any space.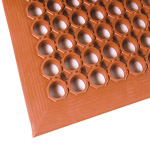 Commercial Kitchen Mats are designed for restaurant and commercial kitchen environments where comfort, traction and drainage are all a priority. These kitchen mats are constructed out of Nitrile rubber and thus hold up better to grease, fat and oil. Drainage holes allow food and liquid to fall through these floor mats.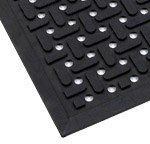 RubberDrainage Kitchen Mats are slip-resistant, premium rubber kitchen mats that boast a textured surface to help remove food and debris and a 3/8" low-profile design with ADA-compliant beveled edges, perfect for busy commercial kitchens with areas with rolling carts. These kitchen mats are treated with an anti-bacterial agent.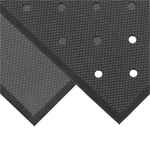 DishwasherSafe Foam Kitchen Mats are perfect for commercial kitchen environments, providing extended comfort to the back, knees and feet, while increasing traction and allowing for easy clean up - even in a restaurant dishwasher or commercial washer and dryer. These 5/8" thick kitchen mats are constructed of a nitricell foam.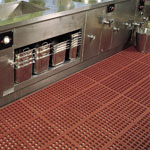 Interlocking Kitchen Mats are snap-together, rubber drainage tiles designed for use in restaurants as well as commercial kitchens. These nitrile rubber kitchen mats can linked together like puzzle pieces, to cover virtually any area, especially oversized and non-rectangular layouts. Each 3' x 3' or 3' x 5' tile is 3/4" thick.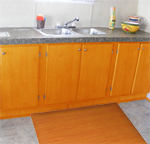 Beautify your kitchen while adding comfort with wood grain design kitchen mats. These floor mats offer a wood grain look but all the cushioning and stress relief of a foam mat. These anti fatigue kitchen mats are perfect in front of sinks, stoves and any preparation areas where you may stand. The durable vinyl surface stain and puncture resistant.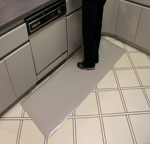 Add style to your kitchen while enhancing comfort with our Textured Design Kitchen Mats, which boast a glossy, attractive pattern and come in 7 contemporary designer colors. These kitchen floor mats come 1/2" and 7/8" thick and provide anti fatigue relief by compressing and molding to your feet to provide superior comfort.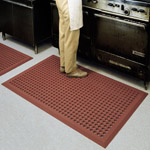 ComfortZone Kitchen Mats are premium anti-fatigue mats for commercial kitchens. These comfort kitchen mats feature large holes for drainage and a textured surface for traction. Molded safety edges eliminate tripping hazards, and these mats are offered with up to 3 years of warranty coverage. Available as grease-resistant and grease-proof.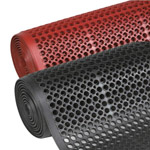 SaniClean Kitchen Mats are highly resilient rubber kitchen floor mats with alternating large / small holes for drainage and debris capturing. Mats are 1/2" thick or durability, longevity and comfort. Available floormat options include grease-proof and 3 year warranty.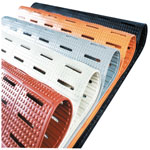 VersaRunner Kitchen Mats are premium Nitrile rubber kitchen mats that provide superior comfort and durability. These rubber kitchen floor mats are comfortable and easy to clean under. Mats are also resistant to chemicals and microbial growth .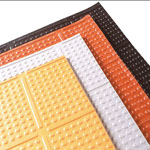 KnobTop Kitchen Mats are rubber kitchen floor mats designed for commercial kitchens. The 100% Nitrile rubber makes these mats grease-proof and resistant to chemicals. The low-profile design allows carts to roll over with ease, and the high-traction surface keeps employees safe. Anti-microbial agents inhibit bacterial and fungal growth.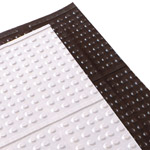 Sub Zero Walk-In Freezer Mats are the only anti-slip rubber floor mats designed specifically for use in deep-freeze conditions. These solid rubber kitchen mats are anti-microbial, tested to -40 degrees Fahrenheit, and reversible for extended service life.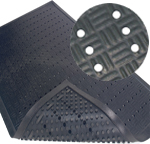 Comfort Kitchen Drainage Mats are comfortable, durable, and have holes for drainage. These kitchen floor mats are made from 100% Nitrile rubber, which makes them oil and grease proof, resilient and anti-slip. Mats are 9/16" thick for superior comfort.