Custom Logo Mats
Custom Logo floor mats are an excellent way to promote your brand – whether it's using a custom floor mat outside you front entrance, a logo floor mat just inside the door, a custom logo mat at a tradeshow or an anti fatigue logo floor mat where your employees stand. Personalized door mats not only reinforce your brand but they also greet customers, inform guests and brighten up your entrance. Additionally, these custom logo floor mats also help remove dirt, debris and water from being tracked inside. We carry a wide variety of personalized door mats in different materials and patterns to look great and perform well in your home or business. From custom door mats made of carpet, polypropylene and rubber to personalized floor mats constructed with coco, coir and nylon, we have the perfect logo floor mat for your space.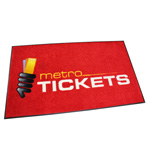 Laser Print Logo Floor Mats offer highly detailed custom logo designs on a carpeted surface floor mat. These custom floor mats are produced using state-of-the-art custom logoing technology, which allows for a vast array of colors, sharp detail as well as fading and shading effects.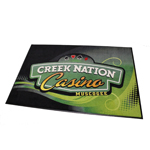 Supreme Carpet Custom Logo Mats are the premier carpet logo mat in the industry! Supreme Carpet mats employ a dense carpet surface, which highlights your custom logo while expertly removing dirt and moisture from shoes. These custom floor mats last for years in the most demanding areas.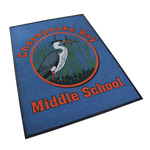 Waterhog Custom Logo Mats aggressively scrape dirt and debris from shoes while promoting your company. Waterhog logo floor mats display razor sharp designs due to the ExactLock® inlay process while the water dam borders help keep moisture from running off the mat and onto your floors.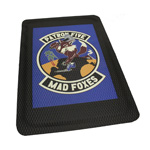 Anti-Fatigue Custom Logo Mats are anti-fatigue mats with a custom logo design on top to help promote your business while enhancing employee comfort. These anti fatigue mats are perfect for locations where customers can see the company's logo image, which reinforces brand loyalty.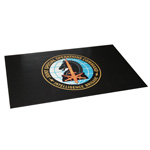 Custom rubber logo mats are a great first line of defensive to help remove dirt, snow, gravel and debris from being tracked inside while showcasing your brand. These all-rubber logo mats can be personalized with virtually any design and still withstand the elements when used outdoors.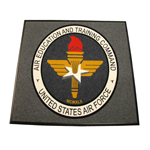 Super Berber Custom Logo Mats offer razor sharp designs and are geared for the most demanding floor mat applications. These berber logo mats employ our ExactLock technology in which the logo colors are inlaid into background color, like a jigsaw puzzle, producing an extremely durable and highly aggressive logo floor mat.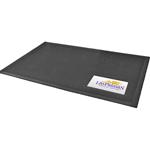 Scraper Custom Logo Mats maintain your professional image both inside and outside by displaying a vibrant logo and keeping your floors clean and dry. Textured coin scrubbers remove and trap debris and water, which keeps your floors safe and dry. Unlimited colors are available.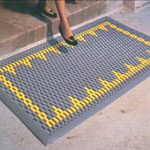 Custom Vinyl Link Logo Mats are durable and attractive custom logo entry mats. They are constructed from heavy duty rectangular vinyl links and stainless steel support rods, making them durable, long lasting and effective logo floor mats.