Runner Mats
Runner mats consist of both vinyl runner mats and rubber runner mats and come in several surface textures and colors. Runner floor mats are perfect for providing traction, keeping floors clean and directing traffic. Runner matting is available for use on both carpet and hard floor surfaces. Warehouses, corridors, hallways, elevator lobbies and parking garages often benefit from using runner mats to help reduce wear, increase slip-resistance and alert visitors to changing floor heights. While some runner mats are produced in lengths up to 50 feet, other runner mats can be manufactured up to 150 feet long.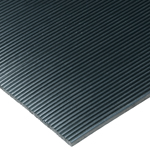 Corrugated Vinyl Floor Runners are our most popular vinyl runner mat and are also the most economically priced! These corrugated runner mats are available in variety of widths, thicknesses and colors for use in almost any environment. Vinyl runner mats increase traction on hard floor surfaces to help prevent slips & falls and reduce cleaning costs.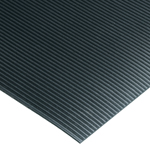 Corrugated Rubber Floor Runners are similar to their vinyl runner mat counterparts but offer superior traction, especially when wet, for both the person walking on the mat as well as the floor mat itself staying in place on the floor, due to a higher coefficient of friction. Rubber runners are ideal if the mats are rolled and unrolled frequently.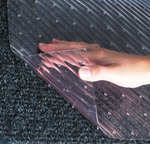 Clear Vinyl Runners are vinyl runner mats that help protect carpet from dirt, debris and water while providing a clear surface to allow the carpet design and colors to show through. These clear runner mats have cleats to stay in place on carpet. Available 1/8" thick in two styles for different types of carpet.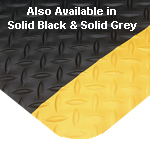 Diamond Plate Vinyl Runners are constructed of 1/8" thick vinyl matting and boast a raised diamond pattern for greater traction and a classic industrial look. These runner mats are often used in heavy-duty commercial environments to increase traction, direct traffic and warn individuals about potential safety hazards.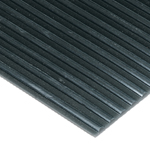 Easy Kleen Vinyl Runners offer a wide, round rib design for easier sweeping and mopping and thus are ideal for locations that need frequent cleaning and maintenance. The rounded corrugations on these runner mats increase traction by extenuating the high-low surface pattern while also helping contain liquids and spills.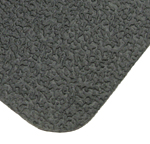 Textured Rubber Runners offer the superb traction and slip resistance of a premium rubber mat and have a multi-directional surface pattern. Textured rubber runners are constructed from 100% EPDM rubber, which gives these runner mats a longer life and better durability and are best for wet, slippery areas needing increased traction.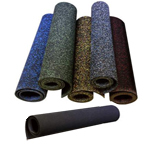 Everlast Rubber Runners are solid rubber mats made from recycled crumb rubber. These durable commercial grade rubber runners are perfect for almost any environment needing non-slip rubber flooring or matting. Order in any desired length in either 1/4" or 3/8" rubber thickness and in either solid black or with color fleck.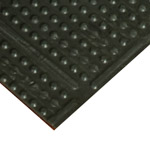 Knob Top Rubber Runners are durable industrial anti-slip mats that can be used just about anywhere. These durable runner mats are 100% nitrile for chemical resistance and also embedded with an anti-microbial agent. Knob Top floor mat runners have excellent traction, low rolling resistance and are available in numerous sizes up to 4' x 60'.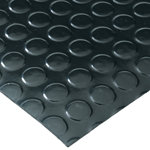 Coin Top Runners combine classic anti-slip mat appearance, durability and performance. The vinyl compound is super-strong and durable and resistant to common chemicals. The raised "Coin Top" surface is ideal for heavy traffic commercial walk-ways and may be permanently installed. 3' and 4' widths, up to 50'. 1 year warranty.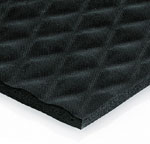 Sure Step Rubber Runner Mats are high traction certified by the National Floor Safety Institute. These 100% Nitrile rubber runner mats are highly durable and chemical resistant for a long service life. Mats are UV resistant and welding safe as well, making them perfect for most manufacturing and work environments. 20% recycled rubber content.