Medical Mats / Lab Mats
Medical Mats and Lab Mats include a variety of clean room matting products designed to remove and trap dirt and debris to help maintain a contaminant free environment as well as other anti-fatigue medical mats which provide comfort when standing. Clean room sticky mats are tacky mats that pull debris from shoes in medical and laboratory settings. Reusable sticky mats continue to perform for up to 2 years from inception. Medical mats and autoclavable mats are approved for use in operating rooms during surgery for individuals standing for many hours. Pur Comfort anti-fatigue mats are ISO certified and can be grounded for static dissipative properties. All of our medical mats and lab mats will help ensure a clean, comfort environment.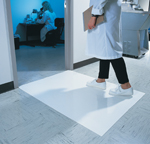 Clean room Sticky Mats aggressively pull dirt, debris and other impurities off shoes to help prevent these contaminants from entering inside. These tacky mats are ideal for use in medical, laboratory and clean room environments as well as locations with excessive debris, such as construction sites and even residential applications.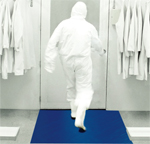 Reusable sticky mats are high performance tacky mats that can continue to effectively pull dirt & debris from shoes for years without have to be replaced yet are easily cleaned. The micro-grooves on the surface of these sticky mats extend their life and help them remove more contaminants by conforming to the shoe surface more precisely.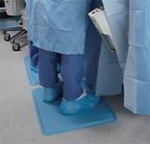 Medical Mats are specifically designed for maximum comfort and cleanability while meeting the most stringent regulations for use in surgical and operating rooms, laboratories and clean room environments. These anti-microbial treated medical mats have a dual comfort layer construction for superior anti-fatigue relief and are fully NFPA 260 & Cal 117 compliant.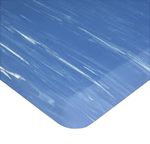 Tile Top Anti-Fatigue Mats are our most popular comfort floor mats due to their classic marbleized look and their superior comfort. These anti-fatigue mats have a anti-microbial compound built in. Tile Top floor mats are available 1/2" and 7/8" thick an in widths from 2' to 8' wide.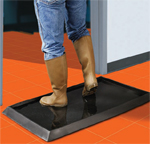 Sanitizing Footbath Mats are floor mats designed to aggressively clean dirt, debris and other contaminants and bacteria from footwear before entering clean rooms and hygienically controlled areas such as food processing plants, ISO certified laboratories and surgical rooms. A disinfectant solution helps eliminate microbes.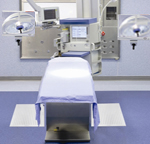 Autoclavable Anti Fatigue Mats are comfort floor mats designed for use in sterile rooms where comfort, ease of cleaning and sterilization are desired. Mats are made from a 100% anti-microbial rubber and withstand repeated autoclave cycles. Mats come with a one year warranty. May be cleaned and sterilized manually or autoclave for 15 minutes.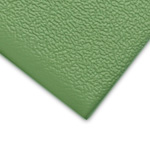 These SoftFoam Anti Microbial Anti Fatigue Mats offer comfort and ergonomic support for workers standing in medical environments. Featuring an antimicrobial agent embedded within the product, this EPA registered medical mat will prevent the growth of most fungal and bacterial agents. These antimicrobial mats are easy to disinfect and wipe clean.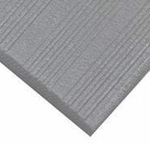 Disposable Surgical Anti Fatigue Mats provide comfort and anti-fatigue relief in operating rooms and surgical centers. These disposable medical floor mats are individually packaged for convenience and feature a non slip ribbed surface and safety beveled edges.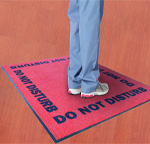 These "No Talk" Do Not Disturb Carpet Mats are vibrant, high-contrast carpeted floor mats with the words "DO NOT DISTURB" printed in bold around the perimeter. The nylon carpeting layer insulates against cold floors and the vinyl non-slip backing keeps these medical mats in place on smooth surfaces. For use where concentration is critical.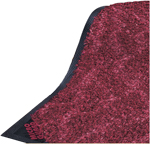 FirstLine Anti Microbial Mats are your first line of defense when it comes to dirt, debris, moisture and microbes. Featuring a crush-resistant carpet fiber, elegant design. 100% Nitrile rubber back are chemical resistant lay flat. The anti-microbial compound is permanently bonded to the fibers and backing.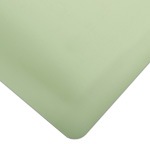 UltraComfort Anti Microbial Anti Fatigue Mats offer ultimate comfort due to a durable dual layer construction. The durable vinyl top layer and thick foam base increase comfort and service life while the beveled edges reduce tripping hazards. These medical mats feature a non-slip technology that keeps them from moving on smooth surfaces.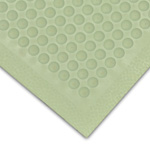 ComfortEase Medical Anti Fatigue Mats are durable and non-porous rubber floor mats featuring an offset bubble design for increased comfort and fatigue relief. The embedded EPA registered anti-microbial agents last the life of the floor mat. These medical mats easily wipe clean with common hospital cleaners. For use in environments where staff routinely stand for long periods.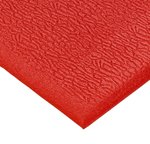 These medical anti-fatigue mats identify critical "no talking" areas where concentration is required at all times. A bright red dye embedded in the anti-fatigue foam lasts the life of these medical mats. The textured surface of these no chat floor mats increases traction. Mats clean easily, and beveled edges prevent tripping.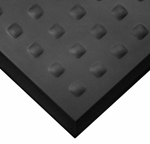 Pur Comfort ISO Class 5 Anti Fatigue Mats offer exceptional comfort for sterile or non-sterile clean-room facilities requiring static dissipative properties as well. These anti-fatigue lab mats are easy to clean with alcohol-based wipes, and may be sterilized through autoclaving or gamma sterilization.