Puzzle Mats
Puzzle Mats are interlocking floor mat tiles designed to provide comfort as well as impact floor protection and can easily be installed, removed and configured to fit any space. Puzzle mats are manufactured in a variety of materials including recycled rubber, vinyl and EVA foam and have different densities and thicknesses for use in a different applications. Heavy-duty rubber puzzle mats are often found in weight rooms and fitness centers and are designed for constant abuse in gyms from exercise machines and free weights. Vinyl puzzle mats are typically designed for use as ergonomic anti-fatigue mats for standing relief to the back, neck and legs. EVA foam puzzle mats are softer and compress more which makes these floor mat tiles ideal for use in home gyms, yoga studios, martial arts arenas and even as tradeshow flooring.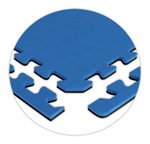 SoftFoam Puzzle Tiles are interlocking puzzle mats that easily connect together to cover any hard floor while providing a comfortable surface for exercising, yoga, a children's playroom or even sound insulation. These economically priced 1/2" thick puzzle tiles are an easy and efficient option when covering both specific areas and wall-to-wall applications.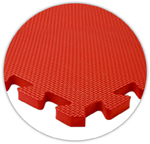 Premium SoftFoam Puzzle Mats are interlocking foam puzzle tiles that easily connect to provide a soft, comfortable floor mat surface for play areas, exercise studios and hard gym floors. These 5/8" thick puzzle mats are waterproof, non-absorbent and made from EVA foam for long-lasting comfort.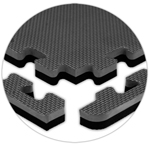 Our 1" TuffStuff foam floors are perfect for MMA, gymnastics, tumbling, aerobic workouts or even children's play areas, residential areas and exhibit flooring. These puzzle tiles are dense and durable but maintain the compression and "give" necessary for any impact activity. Each 1" thick foam tile measures 2' x 2' in size and comes with two attachable border strips.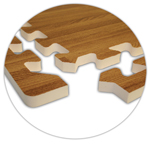 RealSoft Wood Foam Tiles create a warm and refined look in any home or commercial setting. These puzzle tiles are made from EVA foam and feature a wood grain surface that comes in nine distinct colors. Add class to any room or area with these wood foam tiles. Each puzzle tile is 5/8" thick and 2' x 2' in dimension.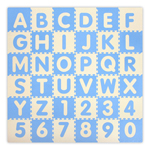 BabySoft Foam Puzzle Tiles are the perfect flooring for any baby or young child. Teach kids that ABC's and 123's with these soft and safe foam tiles. Available in two set area sizes and in one of two color combinations, these baby floors are the best tiles your money can buy.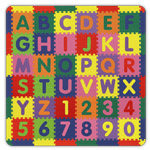 PlaySoft Foam Puzzle Tiles make great flooring for children of all ages. These colorful foam mats feature ABC's and 123's for fun learning and play. Safe and comfortable, these foam puzzle mats come in three set area size options and can be used in homes, schools, churches and daycare facilities.