Pool Mats / Drainage Tiles
Pool Mats and Drainage Tiles and shower mats are all designed for use in locker rooms and wet areas, such as pools, to help increase traction on slippery floors. Pool mats are placed along the edge of pools to prevent slips and falls when getting in and out of the pool. Shower Mats are drainage mats that allow large quantities of water to flow through them while providing comfort and slip-resistance. Locker Room Mats allow moisture to evaporate from wet floors boost traction while keeping the walking surface dry. Drainage tiles can be configured to fit larger spaces and non-rectangular layouts. All of these wet area mats are stain and mildew resistant and can be used both indoors and outside.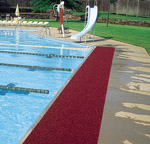 Vinyl Loop Pool Mats are drainage mats that allow water to easily flow through to keep the mat's surface safe in wet areas. These vinyl pool mats are constructed from extruded vinyl and bonded together in a random, spaghetti design. Vinyl Loop Pool Mats are available both with and without a vinyl backing and border.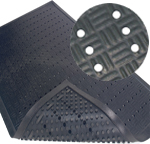 Cushion Drainage Mats are extra comfortable anti-fatigue rubber mats with drain holes that boast bare-foot comfort and excellent drainage. These 9/16" thick super soft rubber mats are ideal for wet areas, providing superior traction even when wet. Cushion Drainage Mats are treated with an anti-bacterial agent for a cleaner and safer environment.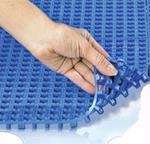 Duragrid Drainage Tiles are puzzle mats that can be configured to virtually any shape and size and allow moisture to drain through while keeping the walking surface safe. These drainage tiles can cover oversized areas, non-rectangular layouts and any wall-to-wall application. Matching beveled edges are available for these tiles.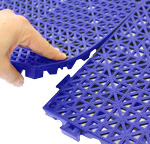 Turtle Tiles are 1' x 1' interlocking puzzle tiles with superior drainage and aeration and often used in high-flow wet areas to provide a comfortable, slip-resistant floor mat surface. Turtle Tiles easily snap together like puzzle mats yet have a unusually strong locking mechanism to keep these drainage tiles firmly linked together. Beveled edging is available.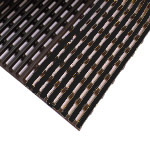 Duckboard Pool Mats are 1/2" thick welded PVC floor mats for wet areas. These floor mats boast chemical resistance, excellent traction for wet feet and fast drying for floors underneath. The open grid design keeps feet out of the water, while allowing water to drain beneath. Ideal for showers, lockers, and pool areas. Comfortable on bare feet.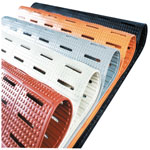 Versa Runner Pool Mats are premium rubber drainage mats that provide superior comfort and durability among all pool and locker room mats. Versa Runner Mats are constructed from Nitrile rubber for a soft, cushiony feel and can easily be rolled and unrolled for cleaning. These pool mats are perfect as runner mats around wet areas.