Coco Mats
Coco Mats and Coir Mats are perhaps the most ubiquitous door mats for both home and commercial use. Cocoa Mats are constructed of coconut fiber husks which effectively scrape dirt and debris from shoes. Coco door mats are produced in a solid natural color as well as in a variety of designs to complement any entrance. Coco floor mats can also be personalized door mats to welcome guests or reinforce a company's brand logo. For commercial locations, coir mats are available in several thicknesses for use on top of existing floors and as recessed coco mats when inlaid into the floor. Many of our coir mats be manufactured in custom widths and lengths to fit any space.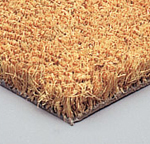 Coco Mats, also known as Coir Mats, are time-tested doormats that act like scrub brushes, expertly cleaning dirt and debris from shoes. Our commercial-grade coco door mats are constructed from coconut fiber husks that are embedded in a strong vinyl backing for added life. Ideal for medium to heavy traffic, indoor and outdoor areas.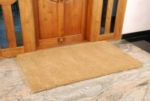 Classic coco mats have become the quintessential residential door mat for use by front entrances, garage doors and patios. These traditional coco mats thoroughly brush away dirt & debris before they can be tracked inside. Classic coco mats are 1-1/2" thick and are internally woven to allow dirt and water to fall through the mat.