Gym Mats / Gym Flooring
Gym Mats and Gym Flooring are heavy-duty rubber mats made for impact resistance in fitness centers & weight rooms. All gym mats are constructed from recycled airplane and trucks tires for unmatched strength and durability. Gym flooring is available as rolls and interlocking puzzle tiles - gym floor rolls are ideal to cover large, open areas while the gym puzzle tiles are perfect for non-rectangular or odd shaped areas. Single gym mats are also available and designed for use under individual weight machines. Softer gym puzzle mats interlock together and a great choice for exercise areas. Other exercise mats are available for use under treadmills, bicycles, ellipticals.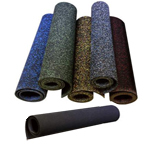 Rubber Gym Flooring Rolls are heavy-duty gym flooring designed to absorb the impact from frequent exercise, heavy equipment and free weights. Gym flooring rolls are perfect when covering large areas, such as fitness centers and weight rooms or any wall-to-wall area to protect both floors and exercise equipment from damage.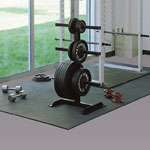 Rubber Gym Mats are a must have for use under workout equipment, weight machines and free weight areas. This resilient rubber gym flooring provides unsurpassed impact protection to help shield both floors and equipment from damage. Each rubber gym mat measures 4' x 6' and comes 3/8", 1/2" and 3/4" thick.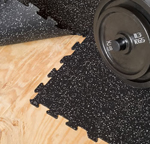 Rubber Gym Tiles are interlocking, rubber puzzle mats that easily connect together to provide gym flooring coverage for temporary and non-rectanuglar exercise spaces as well as areas where gym floor rolls or individual gym mats will not suffice.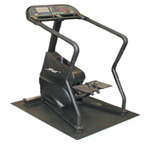 Exercise Equipment Gym Flooring are gym mats designed specifically for use under heavy gym equipment including elliptical machines, stair masters, stationary bicycles and treadmills. This gym flooring is produced for standard sized fitness equipment and comes as 1/4" foam and 3/8" rubber mats.