Chair Mats
FloorMats offers a variety of chair mats for both carpeted floor and hard floor surfaces. A chair mat not only helps your chair glide more easily while you are seated but also reduces wear and tear on your floor. Our clear chair mats come in several thicknesses to accommodate different surfaces while the floor below remains visible. Wood chair mats offer a sturdy yet elegant way to dress up any space while reaping the benefits of a chair mat's protection. Designer chairmats are available in a number of shapes and designs to enrich your office floor. Most of our chair mats are available with a Lifetime Warranty.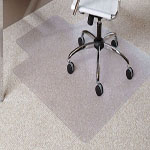 Our clear vinyl chair mats for carpet facilitate desk chair movement while protecting floors from wear and tear. These heavy-duty chair mats are available in 4 grades to accommodate any carpet type and thickness. Beveled edges ensure easy rolling on and off these floor mats.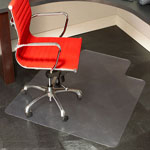 Our Chair Mats for Hard Floor Surfaces are designed to facilitate movement in a desk chair while protecting the floor below from damage & scratches. These chair floor mats have a smooth backing to have maximum contact with the floor and to help keep them in place. Hard Surface Chair Mats come with a Lifetime Warranty.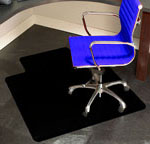 Deluxe Black Chair Mats are totally rigid chair mats built to last. For use on top of both carpet and hard floors, these black chair mats are strong enough to withstand heavy rolling loads and constant use. These mats feature a textured surface and beveled edge.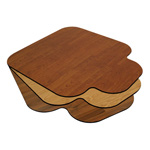 Our Wood Chair Mats are an eye-catching alternative to the traditional clear chair mats. These attractive wood floor mats are constructed of one solid piece of MDF wood composite, similar to Pergo wood flooring and thus are the strongest chair mats in the industry and come with a 10 yr warranty!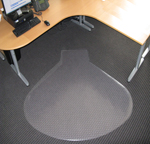 Workstation Chair mats have a beaker shape to help provide floor coverage on L-shaped and non-standard sized desks. These chair mats facilitate movement on carpet while protecting the carpeted floor from damage from the desk chair. All workstation chair mats come with a lifetime warranty.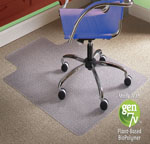 Natural Origins Eco Chair Mats are the first chair mats made with renewable plant resources. These mats are made with a plant-based bioplymer instead of traditional petroleum and fossil-fuel based phthalates. These green mats are the only USDA Certified Biobased chair mat in the industry.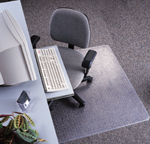 Anti Static Office Chair Mats protect your carpeted floors and allow office chairs to roll with ease. These durable floor mats also prevent harmful static discharges. The smooth durable surface protects floors, eliminates fatigue and comes with a lifetime warranty.


These eco-sensitive Bamboo Chair Mats increase your mobility and range of motion while protecting your delicate floors. These wood chair mats have a durable felt backing which keeps them in place and easily roll up for storage. The bamboo used in these wood office mats is sustainably harvested as well.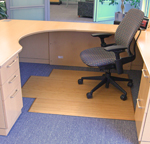 These eco-sensitive Bamboo Chair Mats protect your delicate floors and increase your range of movement. Our bamboo office floor mats are 5/16" thick and ideal for protecting hardwood floors or carpeted floors up to 3/8" thick. Our wood office mats roll up for easy storage and all wood is sustainably harvested.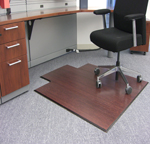 These bamboo chair mats increase ease of movement, prevent fatigue and are made from sustainably harvested bamboo. These floor mats protect your delicate hardwood or carpeted floors, and fold easily for storage when needed. Mats have a high grip latex backing, and an attractive finish.