Switchboard Mats
Non-Conductive Switchboard Mats are essential in high voltage environments to help protect individuals from electrical shocks that could cause serious bodily harm. All switchboard matting is rigorously tested to ensure it meets ASTM D178 and Military 15562F specs. Switchboard mats draw the electrical charge from the person standing on the mat and help prevent this charge from being insulated within the body and not being allowed to escape. All of our non conductive mats have specific type and class ratings which correspond to the style of the mat and, most importantly, the dielectric strength which indicates the maximum voltage these switchboard mats can protect against. Although most non-conductive mats are designed as runner matting, anti-fatigue switchboard matting is also available.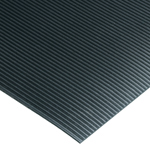 Corrugated Switchboard matting helps protect individuals from serious bodily harm and deadly electric shocks from high voltage equipment. These switchboard mats conform to ANSI/ASTM D-178-01. The thickest non conductive mats can insulate against as much as 50,000 volts of electricity. These floor mats meet Type II, Class 1, 2, 3 and 4 requirements.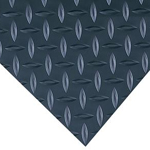 Diamond Plate Switchboard Mats help protect individuals in locations with high-voltage equipment that could discharge and cause serious bodily harm. These non conductive switchboard mats conforms to the latest ANSI/ASTM D-178-01, Type II, Class 2 requirements. This 1/4" thick switchboard matting can insulate up to 30,000 volts of electricity.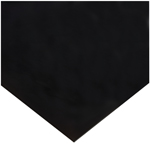 Smooth Mil Switchboard mats are smooth-surface Mil. Spec. dielectric switchboard mats. Designed for working voltages up to 7,500 volts, these industrial non-conductive mats are resistant to high-voltage hazards like flames, transformer oil and ozone. Perfect for floors and work benches. These easy to clean switchboard mats also offer a one year warranty.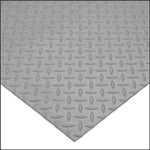 Diamond Plate Mil Switchboard Mats are certified military-grade diamond plate non-conductive matting. These mats feature resistance to working voltages up to 3,000 volts as well as a diamond plate pattern for increased traction. Vinyl construction makes these mats resistant to chemicals, ozone and fire. These durable mats offer a one year warranty.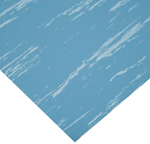 Marbleized Mil Switchboard Mats are non-conductive matting with a dielectric strength of 30,000 volts and fully conforming to Mil. Spec. 15562-G, Type I. Using the available welding thread, mats may be joined into any size desired. The smooth vinyl surface is easy to clean and comes with a 1 year warranty.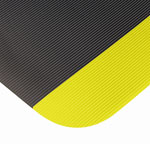 Anti Fatigue Switchboard Mats offer non-conductive matting protection coupled with anti-fatigue cushioning for safety and comfort in one switchboard mat. 5/8" thick Anti Fatigue Switchboard Mats conform to ANSI/ASTM D178 01, Type II, Class 2 and insulate up to 40,000 Volts of electricity.