Sticky Mats
Clean Room Sticky Mats are designed for use in critical environments that need to control dirt, debris and contaminants from entering the workspace. Each case of sticky mats includes 4 pads of 30 sheets each (or 120 sheets in total) and are available with a frame. Sticky mats help pull off finer particles from shoes while sanitizing footbath mats help kill microorganisms on shoe soles. In addition to the sticky mats, other clean room mats are specifically designed for use in operating rooms, laboratories and ISO certified clean room environments and some can be autoclaved to clean. Reusable sticky mats can help reduce cleaning costs for high-traffic areas and may be found in server rooms and hospitals alike.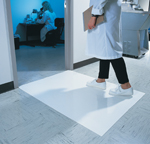 Clean room Sticky Mats aggressively pull dirt, debris and other impurities off shoes to help prevent these contaminants from entering inside. These tacky mats are ideal for use in medical, laboratory and clean room environments as well as locations with excessive debris, such as construction sites and even residential applications.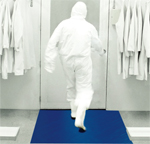 Reusable sticky mats are high performance tacky mats that can continue to effectively pull dirt & debris from shoes for years without have to be replaced yet are easily cleaned. The micro-grooves on the surface of these sticky mats extend their life and help them remove more contaminants by conforming to the shoe surface more precisely.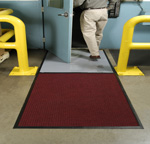 CleanStick Clean Room Carpet Mats are two-stage clean room entrance floor mats. The carpet section aggressively scrubs dirt and debris, while the peel-off adhesive pads grab over 90% of remaining dust in just two steps. Ideal for all types of "dust free" or "clean rooms" found in manufacturing, food processing, server rooms or gymnasiums. NFSI certified.