Rubber Mats
Rubber Mats include a variety of heavy-duty rubber floor mats, rubber tiles and rubber rolls for use in a myriad of locations. These commercial-grade rubber mats are long lasting and meant for constant use thanks to a premium rubber construction. Rubber floor mats include rubber door mats for use outside any entryway, rubber kitchen mats to increase traction and provide comfort in a commercial kitchen setting. Rubber car mats to help protect the car floor carpeting, rubber gym matting to help provide impact protection. Rubber anti-fatigue mats offer stress relief to the standing worker and rubber runners direct traffic and increase traction and ease of cleaning. We use premium rubber in all our rubber mats, which helps keep them from sliding on the floor and curling up on the edges.


Rubber Car Mats are made from a heavy-duty rubber compound and remain flexible throughout the life of the carmat. Hundreds of wells retain dirt, water, debris & snow and keep car carpet clean. Rubber grippers hold these car mats firmly in place. These mats come with a 5 year warranty.



.......................................

from $39.90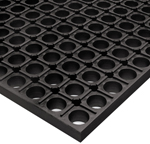 Rubber Drainage Rubber Mats are constructed of a 7/8" thick commercial-grade rubber, which has become the go-to anti-fatigue mat for wet areas due to its non-porous construction and large drainage holes, which allow liquids to fall down through the mat. Colored safety borders are available.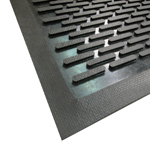 RubberScrape door mats are an excellent exterior doormat to act as a first line of defense against dirt and debris entering your building. RubberScrape mats are constructed with 100% nitrile rubber, resist the elements, and are high traffic door mats.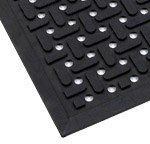 RubberDrainage Door Mats work well outside when exposed to the elements – the drain holes in these rubber mats allow water, snow and dirt to fall through the mat to help keep the top surface clean and prevent debris and moisture from being brought inside. Ideal for heavy traffic outdoor areas.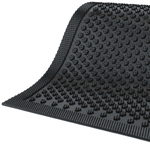 Rubber Safety Scraper Mats are high traction rubber floor mats. An advanced surface texture scrubs shoes clean and increases traction. 100% Nitrile rubber further enhances traction while providing grease, oil, and chemical resistance. OSHA safety borders and cleated backing available. Mats are NFSI Certified.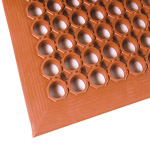 Commercial Kitchen Mats are designed for restaurant and commercial kitchen environments where comfort, traction and drainage are all a priority. These kitchen mats are constructed out of Nitrile rubber and thus hold up better to grease, fat and oil. Drainage holes allow food and liquid to fall through these floor mats.