Floor Mat Extras
A variety of floor mat accessories are available to complement all of the floor mats and matting products we carry. Some floor mat extras keep mats in place, others increase traction and still other matting items help prevent slips and falls. Our double-sided mat tape helps keep floor mats in place, especially on carpeted and slippery surfaces. The anti-slip, non skid tape has a sandpaper-like texture that provides increased traction and is particularly useful on ramps and slippery steps. Umbrella Bag Stands dispense wet umbrella bags, which prevent water from falling from dripping umbrellas and making floors slippery on rainy days. You can find all of our floor mat extras below.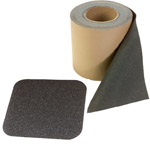 Anti Slip Tape helps increase traction and prevent slips and falls on slippery steps, ramps and other unsafe surfaces. This anti skid tape can be adhered to any hard surface including wood, tile, concrete and metal. This non skid tape is available in both rolls and pads and comes in an easy to install peel and stick application.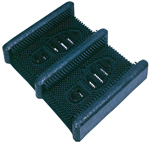 The Mud Scraper floor mats claw off large chunks of dirt, snow, gravel, mud, debris and salt from all sides of your shoes and boots. This rubber pronged mud mat is easy to keep clean and maintain, remaining highly effective for years of use.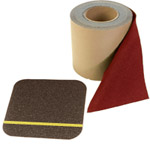 Anti Slip Tape prevents slip & fall accidents and boosts traction on wet, slippery ramps, stairs and other slick surfaces. Our anti skid tape can stick to virtually any hard surface such as concrete, tile, wood and metal. This grip tape comes in 16 colors including glow-in-the-dark in both rolls and pads.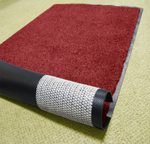 Double Sided Floor Mat Tape holds floor mats and rugs in place on any surface so they don't slip and slide around the floor. This double sided tape adheres to the mat or rug above and the floor below and easily can be removed without a residue remaining.