Waterhog Mats
Waterhog Mats are the most widely used commercial mats on the market today. Waterhog entry mats are available in over two dozen door mat styles and in numerous colors. Each waterhog mat is designed for heavy-duty use, as these floor mats can stand up to even the highest traffic locations. Although most waterhog floor mats are constructed for use as a typical door mat, other waterhog mats are manufactured for use as recessed mats, vestibule mats and even as floor mat tiles. Many styles of waterhog mats can be customized in both width and length while others are even available with a custom logo design. With so many Waterhog door mat styles to choose from, there is sure to be at least one waterhog to fit your space!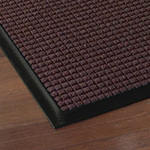 Waterhog Classic Mats have become the industry standard, commercial-grade door mats due to their effectiveness and durability. Waterhog floor mats boast a raised square or "waffle" pattern that scrapes dirt and debris lodged in shoes and wipes away moisture. The surface of the waterhog classic mat dries quickly and is stain-resistant.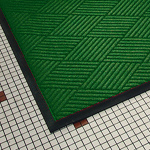 Waterhog Premier Door Mats are the ultimate waterhog mats due to their extra dense face weight and heavy-duty rubber backing. With 50% more surface material than the Waterhog Classic, these Waterhog Premier mats last even longer and are able to wick more water from people's shoes. For heavy traffic use indoors and outside.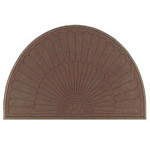 Waterhog Half-Oval Grand Premier Door Mats offer a welcoming, semi-circle design for use in front of single and double door entryways. These attractive half-oval waterhog door mats effectively clean dirt and water from shoes yet dry quickly and are easy to clean. The water dam borders keep moisture from flowing off the mat and onto the floor.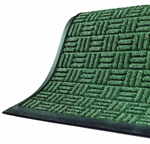 Waterhog Masterpiece Door Mats are heavy-duty entry mats with an alternating link or "basketweave" surface pattern, that offers multi-directional scraping and wiping action to keep shoes dry and floors clean. Waterhog Masterpiece has a polypropylene surface that dries quickly while the rubber backing offers long-term durability.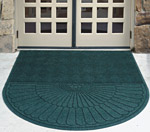 Waterhog One-End Grand Premier Door Mats will be sure to add a touch of style to any single or double door entrance area. This door mat is known for its signature curved end which greatly enhances the look of your typical, rectangular entrance mat. These polypropylene surface mats are excellent at trapping dirt, debris and water.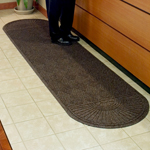 Waterhog Two-End Grand Premier Door Mats are elegant door mats that feature a half-round curve at both ends. The raised surface design is very effective at scraping dirt, debris and water off of shoes and the polypropylene surface material makes the mat quick to dry. For use anywhere a unique and attractive mat is desired.